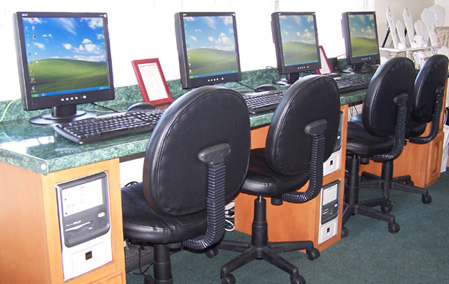 "Sit 'N Surf":
When you need quick, easy access to the internet or your email, use one of our Sit 'N Surf computer stations to get online fast!
You can also use one of our stations to design and print documents, work on your resume, touch up digital photos, record a CD, almost anything you need!
Rates are as follows:

1st Half Hour: $5.00
Each additional 15 minutes: $2.00

5-hour & 10-hour Pre-Paid Cards are also available at a reduced rate.


Retail Sales:
On-Site computer carries a full line of hardware, including cases, custom computers, motherboards, CPU's, and peripherals, plus accessories like CDRW's, floppies, keyboards, mice, etc. If you need it, we have it!
Click here for our current PRICE LIST.


Cables & Ink Cartridges:
Think of On-Site Computer when you need a cable. We carry CAT, USB, printer, IDE, sound and switch boxes, to name a few. Plus we carry a full line of ink jet cartridges for the most popular Epson, HP and Compaq printers.


Copying/UPS Shipping:
Come to On-Site for your copy needs, too. Use our self-serve Canon copier to make copies, collate, even staple in sizes up to 11x17. Plus we're an authorized UPS Shipping Center. When you need a package shipped, come to us.